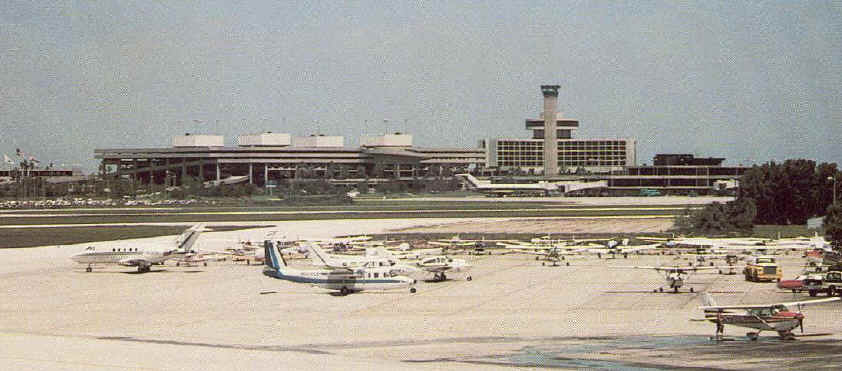 History of Airfield Infrastructure
The story of non-terminal facilities at TPA.
Early History
On January 14, 1914 the St. Petersburg-Tampa Airboat Line (the world's first airline) began scheduled service with a single Benoist Flying Boat. Pioneer aviator Tony Jannus piloted the inaugural flight between the St. Petersburg and Tampa waterfronts. A.C. Pheil (Mayor of St Petersburg) paid $400 for the honor of being the company's first passenger. The inaugural flight soared 150 feet above the bay and lasted 23 minutes. A 40-pound case of bacon and ham (for the Heffner Grocery Co. of St Petersburg) was the first freight item to be transported by the carrier. The airline was operating three flying boats by the summer of 1914 when flying unfortunately ceased.
Drew Field
Tampa officials began thinking about building an airport during the mid 1920s. In 1927 they commenced negotiations with John H. Drew (citrus planter and developer) for the lease and ultimate acquisition of 160 acres. The then remote site was situated six miles west of Downtown Tampa (near the intersection of Tampa Bay and West Shore Boulevard) and was reached by a few primitive streets and narrow cobblestone roads. Site preparation started in 1928 with the clearing of barren pinewood and brush. When completed the rustic airfield was comprised of an administration building, an aircraft factory, a hangar and two runways (laid out in an X-shaped pattern). Drew Field was officially opened on February 23, 1928 amid much fanfare.
The Peter O' Knight Airport was completed at Davis Island (near Downtown Tampa) in 1935 and became the city's airline airport for the next ten years. When opened the airfield boasted three runways (arranged in an asterisk-shaped layout) and a two-story Art-Deco terminal that was occupied by Eastern and National Airlines.
In 1940 the City of Tampa leased the Drew Field to the United States Government for a period of 25 years. The government quickly expanded the airfield to encompass 1,700 acres and built three 7,000-foot runways capable of handling the B-17 Flying Fortress. On May 15, 1940 the first batch of bombers (four B-17s and ten B-18s) arrived at the base. Throughout the war over 120,000 combat aircrew members were trained at the facility. It is estimated that at the peak of operations there were 25,000 personnel stationed there.
The government returned Drew Field to the City of Tampa in April 1946. The Hillsborough County Aviation Authority (created by a special act of the Florida Legislature on June 11, 1945) became responsible for the development and management of the facility.
The introduction of large piston-engine airliners (like the Douglas DC-4 and Lockheed Constellation) rendered the facilities at Peter O' Knight obsolete. Officials decided to reverse the roles of both airports and work began on converting the Base Operations Building at Drew Field into a passenger terminal.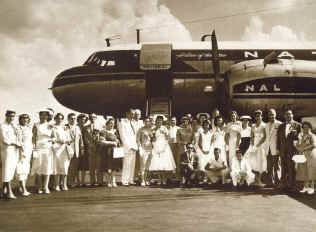 Passengers pose for the camera in front of a National Airlines Convair 340.
Airline operations started on May 1, 1946 when National Airlines began scheduled service with flights to Havana, Jacksonville, Miami, New Orleans, New York and West Palm Beach. Eastern commenced scheduled service on May 15th with flights to Atlanta via Tallahassee and was followed by Florida Air Taxi (later Florida Airlines) in the fall. Trans Canada Airlines (Air Canada) became the first foreign carrier to serve Tampa on April 2, 1950.
Tampa International Airport
In August 1952 the airport's present name was adopted when the West Shore Terminal opened. Explosive growth in traffic was experienced in the late 1950s when several carriers were awarded routes to TPA. When turbo-jet airliners (like the Boeing 707 and Douglas DC-8) entered service the old wartime layout became outdated.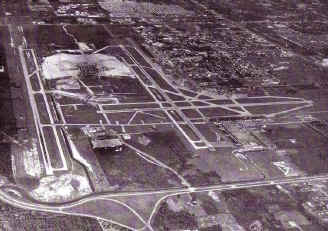 An aerial view depicting the 1960s airfield expansion. Note the Landside/Airside Terminal construction site.
New infrastructure was constructed to keep up with the rising traffic and new technology. Half of the airfield's southern perimeter was moved from Columbus Drive down to Spruce Street. As part of the expansion, runway 18L-36R was lengthened to handle the new larger jetliners. A noteworthy event took place on July 15, 1963 when runway 18R-36L opened on the west side of the airfield. This 8,700-foot runway was built especially for first-generation jetliners. It alleviated the problem of aircraft-generated noise (for neighboring communities) by creating approach and departure flight paths over non-residential areas.
The old Tampa Air Center (located near Tampa Bay and West Shore Boulevard) opened on January 23, 1960 and served as the airport's main fixed-base operator for over two decades. This general aviation facility consisted of a small terminal and an adjacent hangar. Some 60 aircraft were based there during the center's halcyon years.
A $5-million Airport Post Office opened on July 13, 1970. The Brutalist-style building was situated near the Landside/Airside Terminal parkway and was the largest postal facility in the Gulf Coast.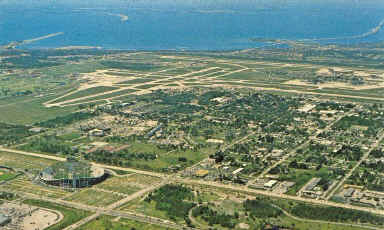 A bird's eye view of Drew Park, Tampa International Airport & the old Tampa Stadium.
Work on extending runway 18R-36L to 11,000 feet started on November 1, 1978 and was completed on April 18, 1980. The $3.8-million expansion allowed the airport to handle trans Atlantic Jumbo-Jet flights to Europe.
On March 10, 1978 the Aviation Authority selected Hangar One (an Atlanta based nationally known fixed-base operator) to manage a proposed new general aviation complex to be built at the site of the old West Shore Terminal. A long-term lease was signed with the Aviation Authority on December 27, 1979 and a ceremony was held on May 29, 1980 to mark the beginning of construction. The beautiful $6-million terminal opened to general aviation traffic on November 5, 1981.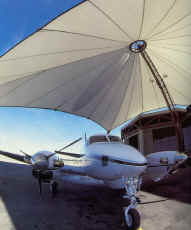 The General Aviation Terminal's canopy shelters a private aircraft.
Initially the structure had a V-shaped configuration with the central section serving as a terminal and two adjoining 20,000 square-foot wings housing aircraft maintenance and storage bays. The building's most distinctive feature was a 320-foot fabric canopy that stretched from the curbside to the airside boarding area. The umbrella-like canopy covered 22,000 square-feet of terminal space and sheltered patrons from the Florida weather. Terminal amenities included a U.S. Customs and Immigration Center, a pilot's lounge, a flight plan/weather briefing center, a conference room, rental-car facilities and a snack shop. The maintenance center had a 3,500 square-foot repair shop, 2000 square-feet of parts storage and a 3,000 square-foot avionics repair station.
Several key facilities were dedicated at Tampa International Airport during late 1983. These included an airfield maintenance facility, an air-cargo terminal and hangar for Delta Airlines.
For 37 years the airfield maintenance department had been operating out of a vintage World War II Army Air Corps motor pool building. On October 6th the Aviation Authority dedicated a $2-million state-of-the-art maintenance facility. The new complex occupied seven acres (situated on the northeast corner of the airfield) and was comprised of five buildings containing some 40,000-square feet. The Administrative and Vehicle Maintenance Building was the largest of all the structures. A total of thirteen automobiles, eight tractor/mowers, 24 trucks and 35 pieces of construction equipment moved into the new facility.
During the early 1980s the airlines began lobbying for a dedicated airfreight facility. As a result, Aviation Authority officials started making plans for an air-cargo terminal to serve the airport's growing needs. A 52-acre wooded tract (north of the Landside/Airside Terminal) was chosen as the site where the new centralized facility would be constructed.
When completed late in December the $10.6-million Consolidated Air Cargo Terminal contained 113,400-square feet of floor space. Freight was processed through 45 bays that were accessed by means of 54 loading doors. Assembled shipments were moved out to aircraft through 31 doors facing the building's apron. The terminal's ramp could accommodate one wide-body airliner and two narrow-body jets. When required the structure could be doubled in size and its ramp expanded. Access to the facility was by means of spur road linked to Hillsborough Avenue.
Air Canada, Delta, Eastern, Northwest, Pan American, Piedmont, Republic, Trans World and United Airlines made up the list of preliminary tenants. Eastern Airlines was the largest resident occupying seven bays. Extra space was set-aside for future carriers wishing to use the facility.
Executives at Delta Airlines began thinking about relocating their regional maintenance base from Miami to Tampa during the early 1980s. On October 30, 1981 the carrier made public their intention to build a 125,000 square-foot facility adjacent to runway 18L-36R. Construction on the $25-million hangar commenced on October 4, 1982.
When opened on December 26th the structure encompassed 165,000-square feet. It was basically 500-feet long and 400-feet wide with a height of 110 feet. Access to its vast interior was thru six 60-foot high doors. The facility could simultaneously perform service checks on three Boeing 727s or two Lockheed L-1011s.
Contained within were machine shops with x-ray machines, a wheel break down area and an equipment service bay with a 76,000-pound hydraulic lift. Also included were parts stores, room for four spare jet engines, offices and training rooms. The fire control system consisted of two 500,000-gallon water tanks (located adjacent to the hangar) and high-pressure pumps that could flood the interior with 1-million gallons of water in less than an hour. Eight turbo-charged diesel engines provided emergency back-up power.
The first Delta Airlines jetliner to be serviced at the hangar was towed in on January 11, 1984. Originally 110 technicians specialized in avionics, sheet metal, production control, inspection and general equipment service worked in the hangar.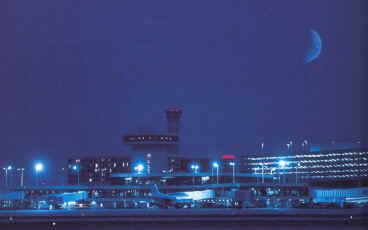 An airfield view of the Landside/Airside Terminal. Note the Piedmont Fokker F-28 parked at Airside D.
Three additional bays were added to the Hangar One facility during the mid 1980s. The $2.5-million expansion added 30,000-square feet of storage hangar space and 10,000-square feet of maintenance areas. An open house was held on May 2, 1986 so that the public could inspect Phase 1 of the new facilities. Phase 2 of the expansion was finished on June 30, 1987. Some 110 private aircraft were based at Tampa International Airport at this point.
A second Airport Rescue/Fire-Fighting station was completed on April 7, 1987 on the west side of the airfield near runway 18R-36L. The facility supplemented the original airport fire station that dated back to the early 1960s.
An Air Canada Boeing 747 traverses the taxiway overpass in 1992.
USAir (US Airways) began construction on its $27-million hangar on March 18, 1992. A "topping out" ceremony was held at the construction site on September 25th. USAir moved into the 130,000-square foot facility on April 3, 1993 three months ahead of schedule. The new hangar could simultaneously accommodate two Boeing 737s jetliners and one 767 wide-body airliner. With the opening of the facility the maintenance staff was increased from 110 to 275 technicians.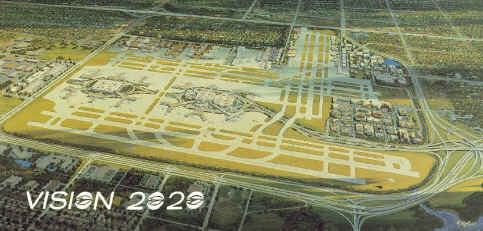 An mid-1990s illustration of a future Tampa International Airport.
On June 3, 1994 the Aviation Authority Board voted in favor of purchasing 288 properties in Drew Park. As part of the Land Acquisition Program a total of 205 acres would be added to the airfield during the next 15 years.
A new $4.5-million Terminal Doppler Weather Radar system was installed at the airport in May 1996. The sophisticated piece of equipment was designed to display critical thunderstorm information such as micro bursts, rain intensity, wind speeds and wind shear.
In February 1997 a $9.7-million reconstruction of runway 18R-36L got underway. The work was completed eight months later and 26 days ahead of schedule. Since its previous refurbishment in 1976 the runway had handled 75% of all jet operations at Tampa International Airport.
Plans were made public in March 1998 to build a $300-million mall on the site of the old Hall of Fame Golf Course. Lord and Taylor, Neiman Marcus and Nordstrom signed on as anchor stores at the new Tampa International Plaza.
An airfreight terminal was completed for Emery Worldwide Corporation in April 2000. The 25,000-square foot building was the first structure to be opened as part of the airport's expansion into Drew Park.
Construction was finished in September on a park and ride Economy Parking Lot. The remote facility had 2,150-parking spaces and was located behind the Airport Post Office.
A brand new employee parking lot (situated north of the Landside/Airside Terminal) was completed in December 2002. The facility included 700 supplementary parking spaces for TSA employees.
Federal Express moved into a $10-million air-cargo terminal in February 2003. The complex occupied 13.3 acres on the east side of the airfield (in the Drew Park Land Acquisition Program zone). The building contained 101,000-square feet of interior space and had a capacity to handle 6000 packages per hour. Its apron covered 436,000-square feet and could accommodate three McDonnell Douglas MD-11 airliners. When required the ramp could be expanded so that two additional wide-body aircraft could park there. A total of 175-parking spaces were available at the terminal. The opening of the FedEx facility created over 100 new jobs.
Capacity was increased at Runway 36L in September with the completion of a high-speed exit and hold area. The $9-million improvement allowed aircraft to depart the runway quickly thereby reducing the likelihood of incoming flights having to switch over to the noise-sensitive Runway 36R.
In November a run-up enclosure was completed on a 1.5-acre site situated between the Delta Airlines and US Airways bases. The three-sided $5.9-million hush house could accommodate airliners as large as a Boeing 747.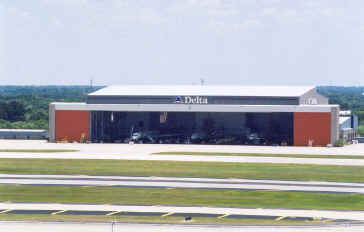 Three Boeing jetliners are serviced at the Delta Airlines Hangar in 2005.
The 2000s were a turbulent time for the airline industry. September 11, the Iraqi War, increased competition from low-cost carriers and rising fuel prices eroded profits at comprehensive (legacy) carriers. By the middle of the decade four major airlines were under the Chapter 11 umbrella. Carriers began looking for ways to cut costs to become more competitive. One way to reduce expenses was to outsource maintenance.
US Airways shuttered its mammoth maintenance base (that serviced the Boeing 737 fleet) around Thanksgiving 2003 eliminating 300 jobs.
The Delta Airlines Hangar, which had for many years kept busy providing maintenance for Boeing 737s, 757s, and McDonnell Douglas MD-80s closed its doors in 2005. Over 300 highly skilled workers lost their jobs as a result.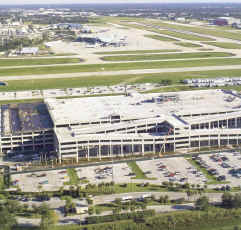 An aerial view of the Economy-Parking Garage construction site.
Phase 1 of the Economy Parking Garage opened in November 2005. The $71-million six-level structure could accommodate a total of 3,300 automobiles. Electronic lighted-display signs informed motorists of the number of available parking spaces in each level. Public art enhanced each of the building's elevator lobbies. A shuttle-bus service transported patrons between a climate-controlled Shuttle Lobby and the Landside Terminal Building. Phase 2 was completed in May 2006 increasing capacity to 5,500-covered and 1,500-surface parking spaces.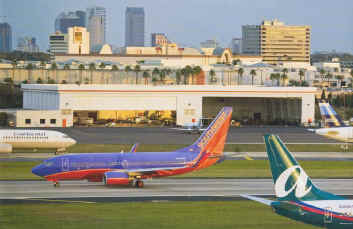 A busy 2006 late afternoon at Runway 36R.
In April 2006 the Airport Rescue/Fire Fighting Department moved into an $8-million state-of-the-art Consolidated Fire Station. The 28,000 square-foot facility replaced two outdated fire stations placed on opposite sides of the airfield. The building had ten bays (for fire-fighting vehicles) that contained 12,800-square feet. There were 15,822-square feet dedicated to staff living areas. These included administrative offices, a dining room, fourteen private-dorm rooms, a kitchen and training rooms. The Consolidated Fire Station was situated south of the Landside/Airside Terminal. Its central location allowed firefighters to speedily respond to emergencies all over the airfield.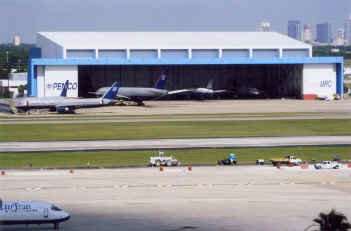 Airbus & Boeing jetliners undergo maintenance at the PEMCO Hangar.
PEMCO World Air Services signed a 15-year lease with the Aviation Authority in March 2008 allowing it to expand its operation into Tampa International Airport. The company moved into the vacant 150,000 square-foot US Airways Hangar and began servicing aircraft in October. Northwest and Southwest Airlines were among the MRO's initial customers. Airliners receiving maintenance at the hangar included the Airbus A-320, Boeing 737 and McDonnell Douglas MD-80. At this point PEMCO expected to create over 400 new jobs over the coming years.
By the late 2000s work had already begun in preparation for the first phase of a second Landside/Airside Terminal complex. This new North Terminal would be constructed at the site of the Consolidated Air Cargo facility. Consequently it became necessary to relocate airfreight operations to the Drew Park side of the airfield.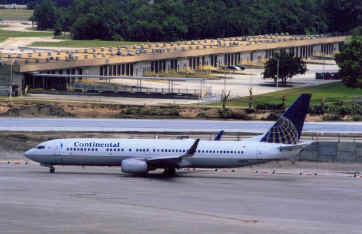 A Continental Airlines Boeing 737 taxies past the old Consolidated Air Cargo Terminal.
In January 2009 construction began on a replacement 112,200 square-foot cargo terminal complex. The $16.9-million facility opened on April 1, 2010 and is comprised of a 75,600-square foot Cargo Building and a 36,600-square foot GSE Building. The complex covers 46 acres and is connected to Hillsborough Avenue by a new 1.4-mile long, tree lined, four lane divided boulevard (Air Cargo Road).
Additional improvements completed as part of the future North Terminal project included a tunnel connecting the cargo and passenger terminals and a north taxiway overpass linking both of the airport's parallel runways.
Early in 2010 the airport's three runways were re-designated due to a magnetic shift in the Earth's poles. Each runway had to be temporarily closed to allow workers to repaint the numbers near the thresholds and replace over 40 signs and 100 sign panels. Both of the jetliner-capable parallel runways were designated as 01-19 (left and right) and the crosswind runway was identified as 10-28.
PEMCO doubled its maintenance capacity when it expanded its operation into the former Delta Airlines Hangar. The previously vacant facility had been refurbished by the HCAA and was activated on September 29, 2010. A United Airlines Boeing 757 was the first airliner to be serviced within the hangar. Some 700 highly skilled technicians were employed at the Tampa base during this time.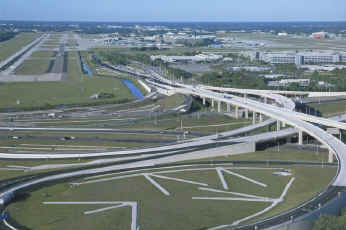 A pilot's view featuring a brand new airport interchange.
Today Tampa International Airport covers a sprawling 3,400-acres and is Florida's third largest commercial airfield. Its three runways (ranging in length from 7,000 to 11,000 feet) handle around 200,000 annual take-offs and landings. Over 180-million pounds of airfreight and 11-million pounds of mail passed through TPA in 2011.
Assorted views of the old Tampa Airport Motel. The motel was situated just south of the West Shore Terminal.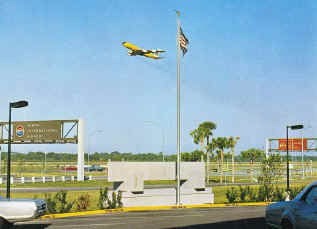 A Braniff International Boeing 707 climbs away from Runway 18R.