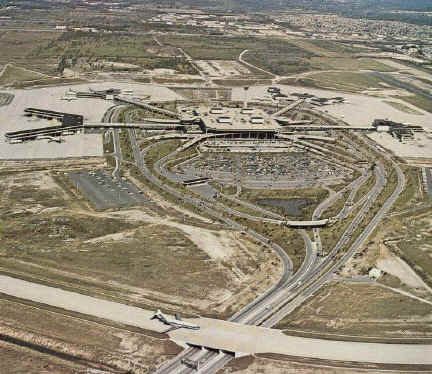 Landside/Airside Terminal 1961-1979
The history of the world's finest airport terminal.
Officials at the Hillsborough County Aviation Authority began thinking about building a replacement terminal in the early 1960s when the barely decade-old West Shore Terminal passed the 1-million passenger mark. They asked Leigh Fisher and Associates (their consultant) to design a Jet-Age terminal complex for Tampa International Airport.
The aviation authority had three primary requirements for the new facility. Walking distances had to be kept less than 700 feet. The terminal had to have an ultimate capacity to handle 20-million passengers. It had to be modular and easily expandable without disrupting airline operations during new construction.
Leigh Fisher sent its engineers on a six-month survey of major North American airport terminals to learn what their strengths and weaknesses were. They would use this information to develop an ideal facility for TPA. Their findings were published in two volumes that contained three terminal concepts that would work for Tampa International Airport.
Concept A was a conventional Centralized Terminal design. Concept B was a Vertical Terminal design with aircraft parking close to the baggage claim/ticketing facilities. Concept C was a radical new design identified as the Landside/Airside Terminal. The latter was chosen in 1965 after all three had been extensively evaluated and publicized.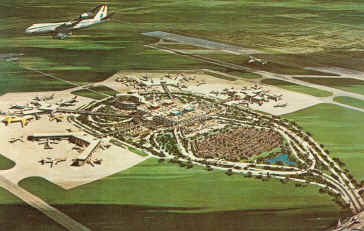 A late-1960s illustration depicting a very busy Landside/Airside Terminal.
The chosen design resembled a spoke wheel with the main Landside Terminal (baggage claim and ticketing areas) at the hub and six Airside satellites (departure gates and aircraft) at the rim. An automated people mover system would transport airline passengers between the Landside and Airside Buildings.
Leigh Fisher & Associates, J. E. Greiner Company (consulting engineers) and the Jacksonville firm of Reynolds, Smith & Hills (architects) comprised the terminal design team. They chose a Brutalist style that featured honey-brown concrete buildings with extensive bands of tinted-curtain walls.
The talented folks at Joseph A. Maxwell & Associates designed the terminal interiors. They created a lavish modern Florida look with widespread use of soft illumination, colorful hexagonal shapes and a heavy wood frieze on all overhead wall areas.
Florida sculptor Roy Butler was commissioned to create the artwork that would be displayed within the terminal. He produced dozens of beautiful metal sea birds that would be exhibited in the Landside Terminal's Ticketing and Transfer Levels.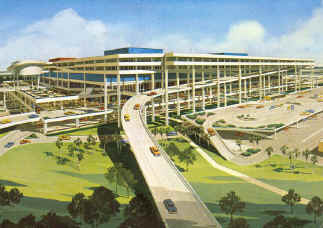 A late-1960s illustration of the Landside Terminal Building.
McDevitt & Street Company (of Charlotte) was awarded the single largest construction contract, which included the Landside Terminal and Airside C. C. A. Feilland Company (of Tampa) was awarded the contract for building the remaining satellites.
In 1966 Westinghouse was awarded the contract for building and maintaining the automated people mover system. The company had begun developing this technology in the early 1960s and in 1965 successfully operated an experimental system (Sky Bus) on a test track in Pittsburgh. Westinghouse was also awarded the contract for building and maintaining the terminal's numerous elevators and escalators.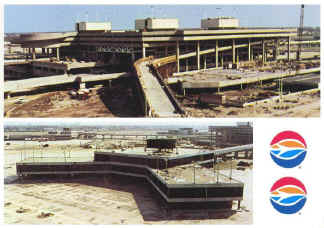 Construction site views of the Landside Terminal & Airside D.

Work on the terminal began on October 28, 1968 (between the airport's parallel runways) with the construction of the taxiway overpass linking both runways and the support structures for the elevated people mover system.

By mid April 1971, the $83-million terminal complex was completed and ready for airline service.

Sixty thousand people visited the beautiful brand-new Landside/Airside Terminal during a weekend open house event that was held on April 10th and 11th. Lucky members of the local and national news media were treated to briefings and tours on April 13th.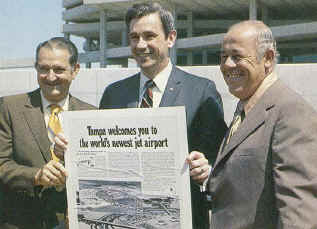 Florida Governor Reuben Askew (center) & HCAA Director George Bean (right).
On April 14, 1971 Florida Governor Reuben Askew dedicated the Landside/Airside Terminal complex with many local and state dignitaries in attendance. George J. Bean (HCAA Director), Stewart D. Mast (Airport Manager) and L.B Maytag (President of National Airlines) were among the VIPs present during the ceremony.
National Airlines flight 36 from Los Angeles was the first to arrive at the new terminal on April 15, 1971. After touching down at 5:26am the flight taxied to Airside E to unload its passengers.
Initially the Landside/Airside Terminal was comprised of a six-level Landside Terminal Building, a Westinghouse People Mover System and four Airside satellites (Airsides B, C, D and E). The terminal complex had an annual rated capacity of 12-million passengers and could simultaneously handle 40 Boeing 727-200 jetliners. When required the Landside/Airside Terminal complex could be expanded to handle 20-million passengers and an additional 20 medium-size jets.
Two 1971 views of the Landside Terminal Building & Westinghouse C-100 shuttles.
The Landside Terminal was the largest structure in the complex. The six-story structure contained more than a million square feet of floor space. Its foundation and supporting columns were designed for expansion and could ultimately support three additional levels.
The building was color-coded with blue and red symbols to assist travelers in finding airlines and other facilities as quickly and easily as possible. All the airlines serving the airport were assigned a color depending on their location within the Landside Terminal. The blue airlines were located in the south side of the building and the red carriers were situated in the north.
Eastern, Northeast, Northwest, Pan American and Trans World Airlines were among the blue carriers. Air Canada, Braniff International, Delta, National and United Airlines made up the list of red operators.
The Landside Terminal's beautiful Star Trek interior. Note the classic Charles Eames chairs.
The Landside Terminal's first three levels accommodated passenger related facilities. Level one (Baggage Claim) contained fourteen T-shaped luggage dispensers, the baggage make-up area (where suitcases were sorted) and ground transportation services. Level two (Ticketing) housed six-ticket counter islands dedicated to baggage check in and ticketing functions. Level three (Transfer) was where the shuttle stations were located and where restaurants and shops could be found. The offices of the Hillsborough County Aviation Authority, an Eastern Airlines Ionosphere Club and a National Airlines Sun-King Lounge were also situated in this level. The upper levels (levels four to six) housed the 1,800-space Short-Term Garage.
Roy Butler's beautiful sea-bird sculptures.
Travelers using the Landside Terminal would never need to walk more than 300 feet between their automobiles (parked in the Short-Term Garage) and the shuttle stations. Four color-coded elevator banks containing sixteen cars (expandable to twenty four) and four clusters of escalators would keep arriving and departing traffic moving smoothly within the building.
Four views depicting the Westinghouse C-100 shuttles.
The Westinghouse People Mover System was the first of its type to be used within an airport terminal. Eight first-generation C-100 shuttles transported travelers between the Transfer Level shuttle stations and Airside satellites. Each shuttle could transport 100-standing passengers in air-conditioned comfort. Travel time between Landside and Airside was only 42 seconds. The automated vehicles traveled at speeds of up to 30 mph on 1,000-foot long elevated roadways. Each Airside was provided with two roadways set 30 feet apart. An individual shuttle pair could transport 840 passengers in each direction every 10 minutes enough to unload two jam-packed Boeing 747s.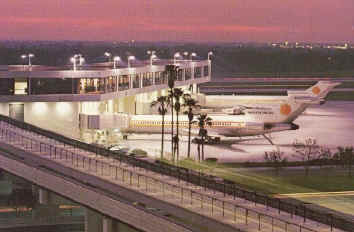 A beauty shot of Airside E featuring two National Airlines Boeing 727s.
When the Landside/Airside Terminal was being planned in the mid 1960s the design called for four identical Airside terminals. This concept was later discarded and the airlines (Delta, Eastern, National & Northwest) were allowed greater participation in the design process. The result was four distinctly different Airsides designed around the requirements of their tenants.
The Airsides were architecturally coordinated with each other and the Landside Terminal. They were three-story structures; the third level was dedicated to the shuttle stations, the second level to the departure lounges (except Airside E) and the ramp level to offices and airfreight facilities.
Continuous curtain walls gave patrons an excellent view of aircraft, ramp and runways. Soft illumination and acres of carpeting conveyed a relaxed atmosphere. A small cocktail lounge, gift shop and snack bar was provided at each facility. Walking distances between the shuttle stations and the farthest gates were never more than 200 feet.
Airside B (gates 16-30) was the smallest of the satellites and had a unique T-shape arrangement. The satellite could comfortably handle eight Boeing 727-200 jetliners and a few smaller commuter aircraft. Eastern Airlines and Braniff International were the building's primary tenants. The Airside was also home to commuter operators PBA/Naples and Shawnee Airlines. Seven of the satellite's gates were equipped with jetways.
Airside C (Gates 31-45) had a V-shaped configuration and was were the US Customs and Immigration Center was located. Its two concourses could handle ten Douglas DC-8-61 jetliners. Delta was assigned six departure lounges and Trans World Airlines held two. Air Canada and Pan American occupied the remaining hold rooms that were linked to the adjacent 12,000 square-foot federal inspection facility. Six of the Airside's gates were furnished with jet loaders.
Airside D (Gates 46-60) had a Y-shaped footprint and its two concourses could handle ten Boeing 727-200 jetliners. Northwest was assigned four departure lounges and United Airlines occupied two. Northeast Airlines possessed the remaining three hold rooms but the colorful carrier did not equip its gates with jet loaders. Six of the building's gates were outfitted with jetways.
Different views of the popular Airside E. Note the National Airlines Douglas DC-8 & Boeing 727s.
Airside E (Gates 61-75) was the largest of the satellites and had a V-shaped layout. The structure was custom designed to handle the McDonnell Douglas DC-10 jetliner. Its two concourses could handle six of the wide-body jetliners and five Boeing 727s. Airside E's design was unique, the departure lounges were located on the third level and the jetways were on the second. Elevators and escalators, provided at each gate, conveyed passengers between the departure lounges and jetways. Airside E had eleven departure lounges that were exclusively assigned to National Airlines. Six of the satellite's outer gates were equipped with jet loaders.
Travelers and the media praised the avant-garde new terminal. Don Bedwell of the Miami Herald wrote, "Tampa's rejuvenated airport looks like a certain gateway to Walt Disney World and an aspiring competitor for Miami International Airport's traffic." U.S. News and World Report declared " Inside the terminal are vast expanses of carpeted waiting areas and softly lighted ticket counters – more like a quiet hotel lobby than the usual crowded airport departure lounge."
The Landside/Airside Terminal was soon among Central Florida's most popular tourist attractions. Visitors flocked to the terminal to admire its beautiful architecture, interior design and ride the Westinghouse shuttles. The facility was even listed in travel publications as a point of interest.
Airport planners, architects and engineers from around the world frequently visited the terminal to study its outstanding design. Advertising agencies and production companies began using spots around the terminal to shoot television commercials.
Both Eastern and National Airlines brought wide-body airliners to the new terminal complex for public display. On April 25th Eastern Airlines docked one of its brand new Boeing 747s at Airside B. National Airlines parked a McDonnell Douglas DC-10 at Airside E on November 20th. The latter was part of a two-day Air Fair that included demonstration flights, exhibits and films.
Walt Disney World history was made on October 22, 1971 when Shawnee Airlines began de Havilland DHC-6 Twin Otter flights to the Magic Kingdom STOL Airport. Disney fans could now fly directly to the world-renown theme park without having to use surface transportation.
Wide-body operations simultaneously started on December 15th when Delta and Northwest Airlines began operating the Boeing 747 on the Tampa-Chicago route. National Airlines introduced the McDonnell Douglas DC-10 that very same day on the Tampa-New York run.
During its first year in operation the Landside/Airside Terminal handled 3.5-million passengers and 40-million pounds of air cargo. Eastern was by far the busiest carrier followed by National and Delta Airlines.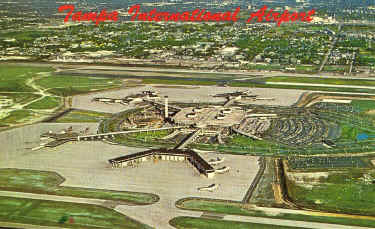 A 1972 aerial view depicting the new ATC-Tower & Host Hotel construction.
On July 15, 1972 the Federal Aviation Administration moved into the newly completed ATC-Tower (and base building) adjacent to the Landside Terminal. The 204-foot control tower was designed by the illustrious architect I. M. Pei and was the tallest in the United States.
Northeast Airlines was merged into Delta Airlines on August 1, 1972. The former Yellowbird gates at Airside D were abandoned and all operations were relocated to Airside C.
Lockheed L-1011 flights began in December 1972 when Eastern Airlines introduced the type on routes to Atlanta, Chicago and New York.
The Host International Hotel during construction (left) & in the mid 1970s (right).
On December 1, 1973 the beautiful Host International Hotel opened it doors. The $11-million 300-room facility was designed to provide the ultimate in convenience and luxury for the business traveler. A revolving 350-seat glass-walled restaurant (nine stories in the air) gave patrons a 360-degree view of the airport every 60 minutes. Amenities for guests included a veranda swimming pool, a coffee shop and a cocktail lounge. Meeting and banquet facilities could accommodate groups of up to 1,000 people. A third-story arcade (filled with shops and boutiques) linked the hotel with the Landside Terminal's Transfer Level.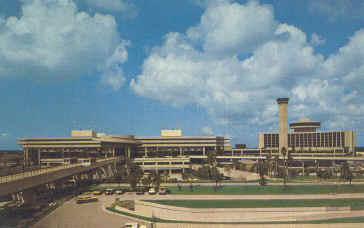 The view from Airside B's north concourse.
Air Florida began scheduled service on April 5, 1974 with Lockheed L-188 Electra flights to Miami. Northwest Airlines accommodated the new carrier by sharing its Landside and Airside facilities. The following year the terminal handled 5,163,284 passengers and 50-million pounds of air cargo.
Several evocative 1977 views of the Landside/Airside Terminal.
Continental Airlines commenced scheduled service on July 29, 1977 with Boeing 727 flights to Denver and Miami. The carrier occupied a ticket counter in the blue side of the Landside Terminal and used a gate at Airside B.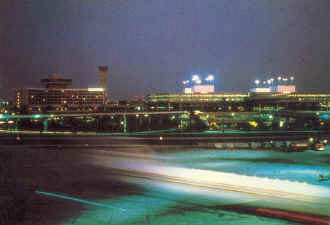 A National Airlines Boeing 727 is pushed back from gate E-66.
Airbus A-300s started visiting Tampa International Airport in the fall when Eastern Airlines placed the type into service on the New York-Tampa route.
Two late 1970s aerial views of a busy Landside/Airside Terminal.
In 1978 Allegheny, North Central, Ozark and Southern Airlines initiated scheduled service as a result of the Airline Deregulation Act. Flights to Europe began on May 4th when National Airlines inaugurated nonstop McDonnell Douglas DC-10 flights to Amsterdam. Pan American withdrew from Tampa when it terminated its scheduled to service Mexico City. The Civil Aeronautics Board awarded the route to Eastern Airlines, which launched daily nonstop flights on August 1, 1978.
American Airlines started scheduled service on January 20, 1979 with flights to Dallas/Ft Worth. Piedmont Airlines followed on April 1st with scheduled service to Boston, Charlotte, Greensboro/High Point and Winston Salem. On December 23rd United Airlines opened its new regional headquarters at Tampa International Airport after terminating its Atlanta operation. One hundred and twenty employees were relocated as an outcome of this move.
The Airside D (left) & B (right) Westinghouse C-100 shuttles.
On May 1st the Aviation Authority, Eastern Airlines and Westinghouse honored James Urban (of Orlando) as the 100,000,000th person to use the Landside/Airside Terminal's shuttle system.
A 1979 pilot's view of the Landside/Airside Terminal. Note the expanded Rental Car Service Building.
The Rental Car Service Building (adjacent to the Landside Terminal) was reopened on December 10th after a $3.6-million expansion project. The structure was doubled in size to accommodate four rental-car operators. Initially the facility only housed two rental car companies.
As the decade came to a close the celebrated Landside/Airside Terminal handled 8-million passengers and 60-million pounds of airfreight. Plans were already on the drawing board for an ambitious expansion project.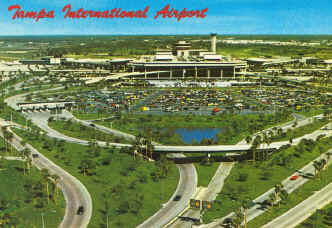 A mid-1970s view of the Long-Term Parking Lot & Landside Terminal Building.
A National Airlines Boeing 727 approaches gate E-68 & an Air Florida McDonnell Douglas DC-9 is pushed back from D-55.
Douglas DC-3s at Airside B's north concourse.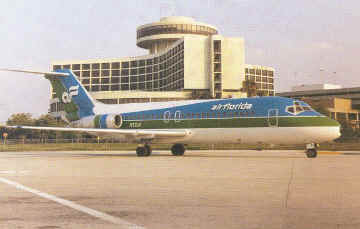 An Air Florida DC-9 with the beautiful Host International Airport Hotel in the background.