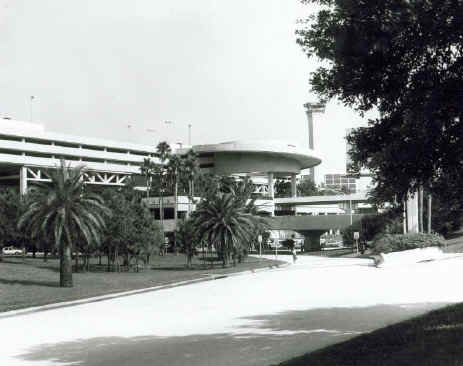 Landside/Airside Terminal 1980-1999
The history of the world's finest airport terminal.
During the early 1980s the Hillsborough County Aviation Authority launched a massive expansion of its Landside/Airside Terminal complex. On May 22, 1980 construction began with the expansion of the Airside C and D aprons. Work also commenced on building a north taxiway connector linking both of Tampa International Airport's parallel runways. When opened to airfield operations on July 29, 1981 the $9.5-million project greatly reduced taxiing time between the Landside/Airside Terminal and runways.
Early 1980s views depicting the Landside Terminal Building expansion project.
On March 12, 1981 the Dugan and Myers Construction Company (of Cincinnati) was awarded a $24-million contract to expand the Landside Terminal's garage. Three additional parking decks were added increasing garage capacity from 1,670-parking spaces to 3,900 spots. With the addition of the new decks it became necessary to increase the number of elevators from 16 to 24. The newly expanded facility was opened to the public on May 1, 1983.
Two 1982 aerial views of the Landside/Airside Terminal.
Construction started on November 17, 1981 on the widening of the terminal parkway system. As part of the job a new overpass was constructed near the U.S. Post Office. Work was completed on December 20, 1982 increasing the number of traffic lanes from four to six and greatly improving traffic flow.
A busy Landside/Airside Terminal in 1984 with a Pan Am Boeing 747 parked at Airside E.
Airsides D and E got seven new jetways during the early 1980s. These were installed at previously inactive gates and were used by Continental, Piedmont, Republic and USAir. In December 1983 all airfreight operations were relocated from the ramp-level of the Airside satellites to an 113,400 square-foot Consolidated Cargo Facility.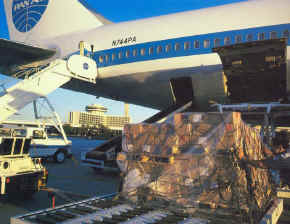 Pan Am ramp agents load a London bound Boeing 747 at gate E-70.
Pan American returned to Tampa International Airport after a two-year hiatus. The carrier restarted scheduled service on January 15, 1980 as a result of its merger with National Airlines. Nonstop weekly flights to Paris were inaugurated on April 30, 1981. Direct service to London was launched on February 3, 1982 using a Boeing 747 Jumbo-Jet. The following year an Air Bridge was started with fourteen daily round trip flights between Miami and Tampa.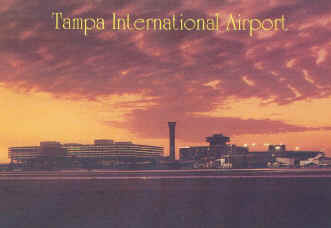 A beautiful 1983 dusk view of the Landside/Airside Terminal.
Delta Airlines introduced the Boeing 767 on the Atlanta-Tampa route on December 7, 1982. Eastern Airlines followed by operating the world's first scheduled Boeing 757 flight (on the same route) on January 3, 1983.
The view from Airside B's south concourse (left) and revamped public transportation lots (right).
In April 1984 work was completed on the refurbishment of four public transportation lots flanking the Landside Terminal. Part of the work involved the installation of canopies to protect airport patrons from the Florida weather.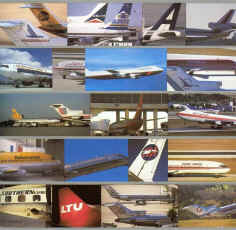 Airlines serving Tampa International Airport during the mid 1980s.
Midway Express (successor to Air Florida) and New York Air began scheduled service in October 1984. The following year British Airways commenced scheduled service with Boeing 747 flights to London Gatwick. Air Jamaica, Bahamasair, Cayman Airways and Pacific Western comprised the list of other international carriers that had initiated scheduled service during this period.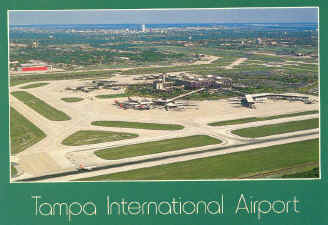 A mid-1980s view featuring Northwest Airlines' mini-hub.
Northwest Airlines was particularly busy during the mid-1980s. The carrier operated a mini-hub at Airside D and during peak periods there were up to five or six aircraft (including McDonnell Douglas DC-10s) parked there.
Left: An interior view of the ATC-Tower. Right: An Eastern Airlines DC-9 approaches Airside B.
During 1986 and 1987 the Landside Terminal got $23.5-million worth of renovation and expansion. The Transfer-Level shops (operated by Host/Marriott) received a complete $2-million makeover creating 11,000-square feet of new retail space. Approximately 6.5-acres of new carpeting were laid throughout the Landside Terminal. New ceilings and improved lighting were installed in all the passenger areas. The Baggage Claim Level was expanded with four additional luggage dispensers. Two ticket counter islands were added to the Ticketing Level. Extra escalators were put into place to increase capacity in the west side of the building. Two parking decks were constructed (on the site of the former public transportation lots) to provide convenient parking for rental cars.
On May 8, 1986 the Aviation Authority held a groundbreaking celebration on the site of the future Airside F. Work on the new satellite began after the Terminal Parkway had been lowered (to facilitate construction of the people mover system) and site preparation had been completed.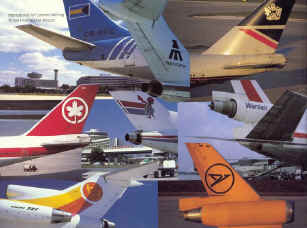 International carriers serving Tampa International Airport in 1987.
The Landside/Airside Terminal passed the 10-million passenger mark on July 7, 1987 and on October 1st was selected as the best in North America by the International Foundation of Airline Passengers.
Three 1987 views depicting a brand new Airside F. Note the USAir Boeing 737s in Allegheny colors.
Airside F (gates 76-90) was completed in October 1987. Unlike the previous Airsides the $83-million facility boasted two levels and a simple linear arrangement. The 184,448 square-foot glass/steel building was 850 feet long with a width varying from 50 to 100 feet. Its interior minimized the use of walled enclosures and featured large common seating departure lounges. A 3,580 square-foot restaurant could seat 125 patrons and there were 1,686-square feet of retail space. Exposed tubular steel trusses supported a continuous curved roof. Airside F could handle fifteen Boeing 757s or twelve Boeing 767 jetliners. Seven of the satellites' gates were connected to a 30,534 square-foot US Customs and Immigration Center. American was assigned three gates; Piedmont Airlines held five gates and USAir occupied four. The Hillsborough County Aviation Authority controlled the remaining three gates.
Four Westinghouse C-100 shuttles transported passengers between Airside F and the Landside Terminal. The people mover system could transport a total of 21,000 passengers per hour.
The Aviation Authority held a three-day inaugural celebration (October 30th thru November 1st) to commemorate the completion of the terminal expansion program. On November 1st Aviation Authority Chairman Adelaide G. Few and Florida Governor Bob Martinez presided over the dedication ceremony. Actual operations commenced on November 4, 1987 with the departure of three American Airlines flights.
Two 1988 bird-eye views of the Landside/Airside Terminal.
Continental moved into Airside E taking over the former American Airlines and USAir gates. With control of six of the satellite's gates the carrier began to expand its operation.
Two early 1990s aerial views featuring the Long-Term Garage.
The Hillsborough County Aviation Authority began making plans for a 7000-space Long-Term Parking Garage as early as 1987. On January 31, 1991 the rental-car section of the new Long-Term Garage was opened. Phase one of the garage was finally completed in December 1991. The $128-million facility had five levels with 44-acres of parking that could accommodate 4,744 vehicles. Parking areas for mobile homes, trucks and vans were available within the structure's lower level. A sixteen-lane toll plaza (serving the Short-Term and Long-Term Garage) was also completed as part of the project.
A monorail system transported patrons between the Landside Terminal and Long-Term Garage. The Bombardier system was comprised of five 17-passenger shuttles and a monorail loop with seven stations. The system was designed to keep walking distances between private vehicles and monorail stations within 300 feet.
The Aviation Authority hosted a Long-Term Garage open house on December 13th inviting over 1000 dignitaries from seven surrounding counties. The garage was opened to the public on December 16, 1991.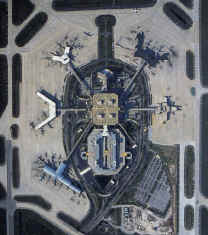 A 1991 pilot's view of the Landside/Airside Terminal. Note the abandoned Airside B.
Airside B was closed forever on January 18, 1991 when Eastern Airlines ceased operations. Plans to refurbish the building were made during the early 1990s but these were never realized.
On November 14th work was completed on the renovation of the Landside Terminal's service building, which housed the Communication Center, Facilities and Police Department.
Airside E lost a tenant on December 4, 1991 when Pan American terminated operations. The satellite was later remodeled and continued to serve as home to Continental and Gulf Stream International Airlines.
America West Airlines launched scheduled service on February 1, 1992 with flights to Columbus. Flights to Las Vegas were added on November 6th increasing the number of daily departures to seven. America West occupied the red side of the Landside Terminal and used the gates at Airside E.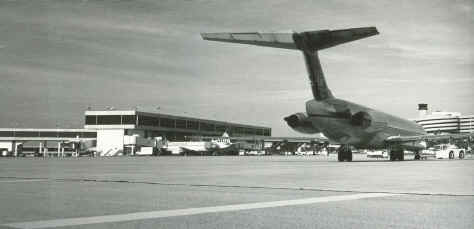 A USAir McDonnell Douglas MD-80 is pushed back from Airside F while a Continental Airlines Boeing 737 rests at gate E-65.
Continental Airlines and USAir added many new routes and experienced significant growth in traffic during 1993. Condor Airlines began year-round service to Frankfurt on January 16th. KIWI International Airlines commenced scheduled service on June 10th with Boeing 727 flights to Newark and Chicago (Midway). Value-Jet Airlines initiated scheduled service on November 15th with McDonnell Douglas DC-9 flights to Atlanta.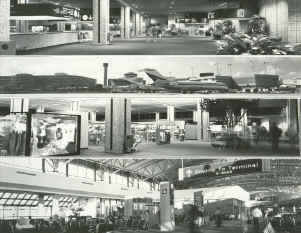 Assorted 1993 views depicting the updated terminal interiors.
That same year 38,000 subscribers of Conde' Nast Traveler magazine selected the Landside/Airside Terminal as the finest in the United States.
During the early 1990s the Aviation Authority identified an immediate need for seven gates that the existing Airside satellites could not provide. There was also a requirement for specialized ramp-level gates to serve commuter airliners. Traffic projections indicated that 60 Boeing 757-capable gates would be required by 2003. Substitute gates for the airlines would be needed during the planned renovations of Airsides C and D. It was during this time that Aviation Authority officials started making plans for a sixth Airside.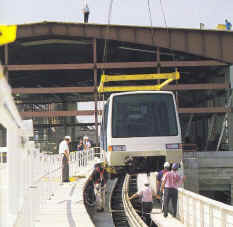 An Airside A Bombardier CX-100 shuttle is lifted into place.
On June 17, 1993 the Hillsborough County Aviation Authority officially announced plans to proceed with the Construction of Airside A. Work on the satellite began in late 1993 after the old employee parking lot had been removed. On July 18, 1994 a 100-ton capacity crane lifted the Airside's new 21.5-ton shuttles into place.
Airside A (gates 1-18) was opened to scheduled airline operations in May 1995. The $96-million glass/steel concourse had a linear configuration and contained 225,000-square feet. Its food court/retail area housed an 8,600 square-foot restaurant and 2,600-square feet of retail space. A thirty foot-high curtain wall provided patrons with an excellent view of aircraft and runway 18L-36R. The building's third floor had space for two airline clubs. When required a federal inspection center could be added to the lower level. A ramp-level departure lounge with two gates served commuter airline flights. Fifteen Boeing 757 jetliners or twelve Boeing 747-400 Jumbo-Jets could be handled by the Airside at the same time. Continental Airlines was assigned half of the gates, which were shared with America West. Four Bombardier CX-100 shuttles transported passengers between Airside A and the Landside Terminal.
A 1996 aerial view depicting the Long-Term Garage expansion.
Work began on refurbishing Airside C and D after Airside A became operational. The old Westinghouse C-100 shuttles were replaced with brand new Bombardier CX-100 cars and the electronic equipment that controlled the system was updated. This $58-million project was completed in March 1996.
While Airsides C and D were being renovated their resident carriers were relocated to Airside E. After the work was completed and the airlines returned to their former homes Airside E was permanently closed. USAir would continue to use the apron during the next few years to park inactive jetliners and ramp equipment.
Southwest Airlines launched scheduled service in January 1996 with twelve daily flights to Baltimore/Washington, Ft Lauderdale, Nashville, New Orleans and St Louis. The carrier moved into the blue side of the Landside Terminal and occupied the northern half of Airside A.
During April 1996 the Hillsborough County Aviation Authority celebrated the 25th anniversary of the Landside/Airside Terminal by holding several events.
Executive Director George J. Bean (who had been very instrumental in the creation of the Landside/Airside Terminal) retired in June 1996 after 32 years with the Aviation Authority. The following year the terminal's roadway system was named in his honor.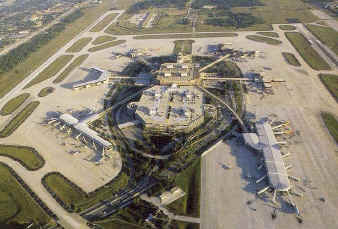 A fabulous 1997 view featuring the completed Long-Term Garage.
Phase Two of the Long-Term Parking Garage was completed in November 1997. The $28.7-million expansion project boosted the number of parking spaces from 4,744 to 8,000.
In August 1997 the Hillsborough County Aviation Authority launched a $23.7-million renovation of the Landside Terminal. The first phase was completed on July 21, 1998 with a total refurbishment of the Transfer Level. Sixteen new shops (Tampa Bay Galleria) were opened along with a new food court and restaurants. The Aviation Authority's offices were revamped and a 1,100 square-foot boardroom was created out of the former Eastern Airlines Ionosphere Club. An airport chapel was dedicated for passengers and airport staff. New carpeting, flight information displays, upgraded fire alarm/protection systems and expanded restrooms were among many other improvements.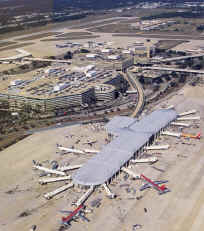 Northwest took over four of Continental Airlines gates when it relocated to Airside A.
During the fall of 1999 Air Canada moved from Airside C to Airside D and Northwest Airlines relocated from Airside D to Airside A. In December passenger traffic at Tampa International Airport exceeded the 15-million passenger mark.