Landside/Airside Terminal 2000-Present
The history of the world's finest airport terminal.
The HNTB Corporation published the updated Master Plan for Tampa International Airport in March 2000. The document contained several recommendations that would increase capacity at the Landside/Airside Terminal to 25-million passengers. This would postpone the need to build a second terminal complex for several years.
Recommended improvements were as follow. Relocate car rental functions to new facilities adjacent to the Landside Terminal creating more space in the baggage claim areas for larger dispensers and heavier passenger traffic. Extend the Baggage Claim/Ticketing Levels to the east (by 180 feet) and west (by 60 feet). Expand the Transfer Level shuttle stations and add two-car shuttle trains to each Airside. Construct an automated conveyance system to deliver outbound baggage to the Airsides. Demolish Airside B to make way for a remote hardstand and completely replace Airside E. Renovate and expand Airsides C and D.
A spectacular 2000 aerial view of the Landside/Airside Terminal. Note the abandoned Airsides B & E.
JetBlue Airways began scheduled service in March 2000 with Airbus A-320 flights to New York (JFK). The carrier occupied the blue side of the Landside Terminal and used the gates at Airside D.
In May Airside E became the first of the original satellites to be demolished. Asphalt covered the building's footprint until construction commenced on a replacement facility.
Two pedestrian bridges linking the Transfer Level and the Long-Term Parking garage were opened to the public in June. The bridges were built for business travelers and e-ticket holders wishing to by-pass the Ticketing Level.
In March 2001 J. D. Powers and Associates ranked Tampa International Airport as number one (for overall passenger satisfaction) in the domestic medium-size hub category.
Around this time the Airside F renovations were completed. A new food court and US Airways club were opened to travelers. The federal inspection center was revamped with increased queuing space and upgraded luggage dispensers.
Roy Butler's sea bird's on display in a Post-Modern Ticketing Level.
In April renovation work was started within the Ticketing Level. New carpeting was laid and new ticket counters were set up. Ceilings were replaced and improved lighting was installed. When completed in 2002 the Ticketing Level had a lighter-brighter Florida look.
Frontier Airlines commenced scheduled service on June 25, 2002 with Airbus A-319 flights to Denver.
Left: Airside F's Westinghouse C-100 shuttles with Airside E in the background. Right: Delta Boeings at Airside E.
Airside E (gates 62-75) was completed in October 2002. The 275,000 square-foot building had a rectangular footprint and cost $120-million to build. The Airside featured several murals (depicting historical aviation images) created by local artist George Snow Hill in 1939 for the original Art-Deco Terminal at Peter O' Knight. Preserved 21-foot Hawaiian Kentia Palms and a mural depicting the world's first scheduled airline flight (St Petersburg-Tampa Airboat Line) greeted passengers arriving at the Airside. Passenger amenities included a food court (with two restaurants), three shops and a play area for children. Space for two airline clubs was provided within the building's third level. Airside E could initially handle 13 Boeing 757 jetliners or fewer wide-body airliners. A ramp-level gate served commuter airline flights. Air Canada was assigned a single gate, Delta controlled nine gates and United Airlines occupied two. The remaining gates were not allocated to any carriers.
Four Bombardier CX-100 shuttles transported passengers between Airside E and the Landside Terminal. The people mover system took 23 months to build at a cost of $21-million and could convey 1080 travelers every 10 minutes.
Airside E was the first to be equipped with an automated outbound baggage delivery conveyor system. The equipment could handle forty bags per minute and transport a piece of luggage from the Landside Terminal to the 7,000 square-foot Airside sort center in less than five minutes.
An estimated 2000 Tampa International Airport employees got a preview of the new Airside on October 11th. The following day the Aviation Authority held an open house that 4000 people visited. On the evening of October 14th Florida Governor Jeb Bush dedicated the satellite during a ribbon-cutting ceremony. Airline operations commenced on October 16, 2002.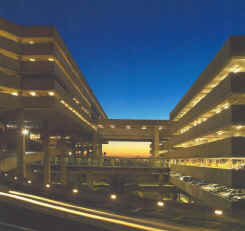 An early morning view of the Landside/Terminal & Long-Term Garage.
A consolidated rental-car facility was opened across the roadway from the blue baggage claim during early 2003. The 16,000 square-foot building could accommodate six tenants and created an additional 4,800-square feet of space in the blue baggage claim area.
Airsides B and C were demolished to make way for an Airside A Baggage Sort Building and a replacement Airside C. The 50,000 square-foot baggage facility was completed in August and allowed for inline screening of all outbound luggage. A refurbished Airside B apron could provide remote parking for seven Boeing 737 jetliners.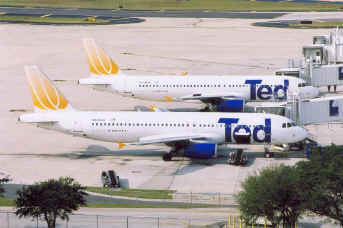 Ted Airbus A-320s parked at gates E-74 & E-75.
Song (subsidiary of Delta Airlines) initiated scheduled service in May 2003 with four daily Boeing 757 flights to Boston and New York (JFK). In March 2004 Ted (subsidiary of United Airlines) launched scheduled service with three daily Airbus A-320 flights to Denver.
On June 24, 2004 the automated baggage handling system was fully integrated with 21 federally mandated explosive detection scanners, making the equipment 100% operational for the screening of all checked baggage. When necessary four additional scanners could be added. The $124-million system had eight miles of conveyors driven by 3,000 electric motors and could process 35,000 pieces of luggage per day. Tampa International was the second airport in the nation to go online with this fully integrated system.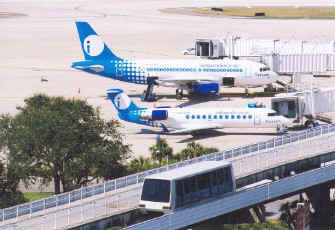 A Bombardier CX-100 shuttle with Independence Air jets at Airside D.
In November Independence Air began scheduled service with four daily Bombardier CRJ-200 flights to Washington (Dulles).
A brand new Airside C (left) & Christopher Still's beautiful "Final Boarding Call" mural (right).
Airside C (gates 30-45) was completed in April 2005 at a total cost of $134.8-million. The 315,000 square-foot building had a curvilinear layout and was created by the design/build team of Alfonso Architects, Beck Group and HNTB. Its departure lounges could seat a total of 1,764 travelers. The passenger screening area was designed with the Transportation Security Administration's post 9/11 needs in mind and featured eight screening lanes that were expandable to ten. Five permanent public art pieces (commissioned by the Airport Public Art Committee) were exclusively created for the terminal. Passenger amenities included a children's play area, a gift shop, a newsstand and two restaurants (operated by HMS Host). Free wireless Internet access was available throughout the satellite. The Airside could simultaneously handle 16 Boeing 737 jetliners and two of its gates were capable of handling the Airbus A-380 Jumbo Jet. Southwest Airlines was assigned ten gates. Independence Air, Midwest and Spirit Airlines occupied the remaining six gates. An additional ramp-level gate was reserved for charter flights.
Interior & exterior views of Airside C's Bombardier CX-100 shuttles.
Four Bombardier CX-100 shuttles transported passengers between Airside C and the Landside Terminal. The Aviation Authority saved $4-million in building costs as a result of using 420 feet of the existing concrete guide way and by refurbishing the former Airside C and D shuttles.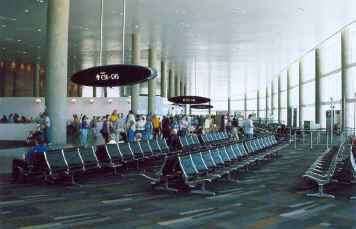 An interior shot of Airside A taken during the April 15th open house.
An Airside C open house was held for the public on April 15th and 16th between the hours of 10:00am and 7:00pm. Airline operations were started on April 19, 2005.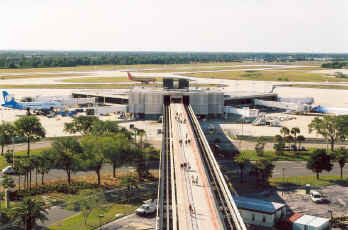 Arriving passengers walk from Airside D to the Landside Terminal.
Airside D was finally closed in May 2005 after AirTran and JetBlue relocated to Southwest Airlines' former gates at Airside A. Preparation for the satellite's demolition began in January 2007 and by May the structure was completely razed. Work then began on transforming the site into a remote hardstand for overnight aircraft parking.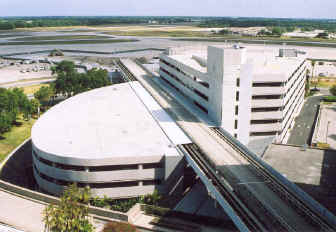 A brand-new Consolidated Rental-Car Garage with the site of the former Airside D in the background.
In November 2006 the $33.8-million Consolidated Rental Car Garage was opened. The seven-level structure had enough space for six rental-car operators and could accommodate 710 rental-ready cars. As part of the project all the rental-car counters were relocated from the Red Baggage Claim to a newly renovated section of the adjacent Service Building.
During 2008 the aging second-generation Westinghouse C-100 shuttles at Airside F were replaced with four brand new Bombardier CX-100 shuttles. The upgrades to the people mover system cost the Aviation Authority around $10-million.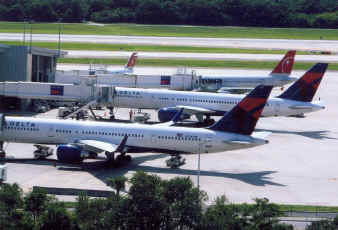 Delta and Northwest Airlines jetliners at Airside E.
Northwest merged with Delta Airlines on October 29, 2008. As a consequence of the merger the carrier abandoned its former facilities on April 28, 2009 and moved its operation to Airside E.
A $21-million refurbishment and expansion of the baggage claim areas was completed in the summer of 2010. The 17 original baggage claim belts (dating back to 1971 and 1987) were replaced with 14 new longer and wider flat-plate dispensers. The new belts had a presentation length ranging from 153 to 243 feet. Twelve of the devices were designed to handle the loads of large narrow-body jetliners and the remaining could easily accommodate wide-body flights. To contain the larger belts 20,000 square feet were added to the Blue and Red Baggage Claim areas. Several new airline baggage service offices were added along with two new public restrooms. Terrazzo flooring replaced carpeting in high traffic areas and improved lighting was installed. Lighter wood paneling was mounted along the walls and the tapestries that dated back to the early 1980s were cleaned and restored.
Continental and United Airlines consolidated their TPA operation on June 25, 2011. Both carriers vacated their former baggage claim/ticketing facilities and relocated to the blue side of the Landside Terminal Building. United abandoned its former gates at Airside E and moved to the Continental Airlines section of Airside A.
Three views featuring Airside A (left), ATC-Tower, Marriott Hotel (center) & Airside E (right).
Today Tampa International Airport's Landside/Airside Terminal is one of the most beautiful passenger facilities in the world. Travelers and the media continue to praise the terminal for its amenities, short walking distances and traveler-friendly layout. In 2012 the world-renown facility handled 16.8-million passengers and was home to 15 scheduled airlines.